Why you should give a stuff about Farming
Farmers play a critical role in environmental outcomes in Australia.
Gabrielle Chan has been a journalist for more than 30 years. She has been a political journalist and politics live blogger at Guardian Australia since 2013. Prior to that she worked at The Australian, ABC radio, The Daily Telegraph, in local newspapers and politics. Gabrielle has written and edited history books, biographies and even a recipe book.
The daughter of a Singaporean migrant, Gabrielle moved from the Canberra press gallery to marry a sheep and wheat farmer in 1996 - the year Pauline Hanson was first elected to federal parliament. She noticed the economic and cultural divide between the city and the country, the differences in political culture and yawning gap between the parliament and small town life.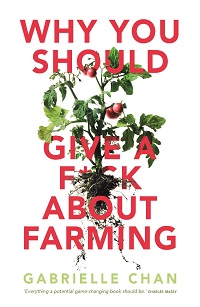 There is no farmers and others. If you eat or wear clothes, the decisions you make influence farming.
'Eaters will be the ultimate arbiter of where and how food is grown and how the land is cared for … We all have a stake in the future of food and farming. I am going to show you why.'
Farming sits at the intersection of the world's biggest challenges around climate change, soil, water, energy, natural disasters and zoonotic diseases. Yet Australia has no national food policy. No national agriculture strategy. Our water policy is close to the Hunger Games. People with means can shop at farmers' markets and order brunch, by the provenance of their eggs, bacon, butter, tomatoes and greens. But do they really understand the trade-offs required to grow it?
Share this with your friends