---
President's Corner
By President Michael Hayes
"Friendship was the foundation rock on which Rotary was built and tolerance is the element which holds it together. There is enough atomic energy in every Rotary club to blow it into a thousand bits were it not for the spirit of tolerance." Paul Harris
"Everyone thinks of changing the world, but no one thinks of changing himself." Leo Tolstoy
There are many famous quotes on tolerance and change and these are but two. Our club has a long history of embracing change and demonstrating tolerance, but the opportunity for any club and its members is always, can we do more? can we be better? can we strive towards being best in breed? Striving for excellence requires self-reflection and learning accompanied by taking the relevant talk into action. Making change has been a cornerstone of RCEM success for many years and proven across many of our service and enablement streams. Establishing new dedicated streams in both Environment and People & Culture in 2021-2022 will again see our club embrace new opportunities.
This week saw us take some small steps (no pun intended) where our People & Culture lead sought to include members with disabilities and who were unable to join our weekly get-together meeting. Supported by our RCEM Ubers. An opportunity to enjoy fellowship and serve. Amongst the team it was great to see great friend of RCEM John McMorrow (unfortunately no pic) enjoying fellowship whilst Humanity in Action featured strongly with much discussion on the dedicated entry on Busy Feet. Thank you to Bill Hall, Paul Rake, Lyle Chasemore and Sue Perriman for sharing in this special afternoon.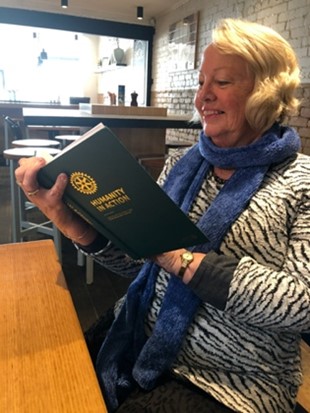 ---
When did you last visit DIK?
Check out this amazing video of Donations in Kind. This is Rotary in Action!!!
VIDEO: Take a walk around DIK
---
It's Our Environment
RCEM Environment Update Gardiners Creek, which flows through Malvern East, originates in Blackburn and flows from Blackburn Lake to the Yarra River. Originally it was known as the Kooyongkoot, from whence Kooyong derives its name. The creek system is an important biodiversity corridor, but also sadly in many sections it has been reduced to a storm water drain. Read More...
---
Which Committee will you be on for 2021-22?
Remember to let President Michael or Secretary Louise know which service avenue you would like to be a member of for 2021-22
Rotarians are needed to join the following committees:
Youth and Vocational, International, Community or Environment.
This is your opportunity to request the committee that most appeals to your interest. And an opportunity to maybe do something different.
---
Shifts at the Camberwell Market = funds for projects
What a great opportunity to help out at the very popular Camberwell Market and raise funds for the club.
A 3 hour shift on a Sunday morning every 3 months. Would you be willing to do that?
If yes, please contact Paul Rake and let him know that you too are interested.
---
How clever and beautiful is this?
Thanks to Rosemary we have 68 images to share. Be on the look out for next week's image :)
---
CALENDAR OF EVENTS
National Tree Planting Day
September 4, 2021, 10:00 am to September 4, 2021, 12:30 pm

Grab your gloves and get your hands into the soil to celebrate 2021 National Tree Day at our annual community tree planting! We'll be planting 3000+ indigenous plants at Darling Park, Malvern East.

Contact: Alick Osborne Email: alickosborne@yahoo.com.au

Read More...
---
---
---
---
100 years of Essendon Airport - Open Day.
Volunteers needed for 3 hour shifts on Saturday 4th September
For all the flying enthusiasts amongst us, this is a once off opportunity.
---
Have a great week everyone.
If you no longer wish to receive messages from Rotary Club of Chadstone East Malvern,